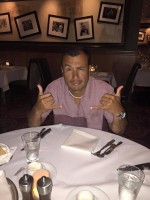 Imagine being a twelve-year old boy and growing up in one of the most desired training spots in the world for serious cycling enthusiasts.  Our next featured club member, Edgar Amezua, hails from a small village near a volcano, El Nevado de Toluca, in the central Sierra Mountains of Mexico (a place where the goats, donkeys, and chickens outnumber the humans with a population of less than 1000 people!).  Inspired by watching some of the best bicyclists in the world – folks like Tony Rominger, Jan Ullrich, Lance Armstrong, and Marco Pantani – Edgar would ride to the top of the mountain with his bike loaded with water and ice to sell to all the onlookers.  Not long after, Edgar was hooked on bicycling and by age 16 he was riding for his first intercontinental biking team, Bimex/ Kellogs.  One of his favorite races at this time was La Vuelta a Colombia, an annual cycling road race with an astonishing 15 stages and hundreds of meters higher than any of the passes in the Tour of France!  (and less support to boot!)  This race is considered to be one of the toughest cycling challenges in the world!
After a bad cycling accident, a move to the United States, marriage to his amazing wife, Kristy, and the birth of his fantastic twin sons (Zack and Luke), Edgar realized he was leading a pretty sedentary life.  So on his 30th birthday, he decided to start running and before he knew it, he had completed several half marathons and a full marathon.  That very same year, he happened to catch an Ironman on television and thought to himself, "This can't be real!  Nobody can do that, right?"  (and this is coming from the guy who raced La Vuelta a Colombia!)  However, he soon got an answer to that question!  After discovering the St Louis Triathlon Club's website, Edgar joined our club and one of the first things he learned to do was swim!  Edgar believes that "joining the club is one of the best things that I have done.  This is one of the friendliest and nicest groups of people I have ever met.  Everyone is willing to help out and give back."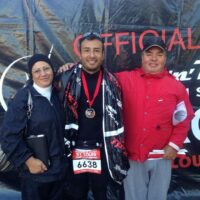 Edgar's training is similar to when he was just a cyclist – he focuses on a high cadence, especially during the off season, which he says builds a large cardiovascular capacity that benefits him when he is racing.  The only way to build pedaling efficiency is through this focus on a high cadence and Edgar does amazing training rides of 130-140 rpm which has tremendous effects on the bike portion of triathlons.  Edgar has other tips to share, especially with folks who are newer to the sport:  (1) "Keep it simple.  A triathlon can be overwhelming but keep it simple" (2) "Don't be afraid to ask questions.  This was my biggest mistake – I spent countless hours in the pool with little to no progress.  If I had to do it again, I would ask questions" and (3) "Enjoy the process.  Be patient – this is a marathon, not a sprint!"
So if you get the chance to run into Edgar at a meeting or a club activity, be sure to introduce yourself!