Do you consider St. Louis your hometown?
No
What do you consider your hometown?
Belleville
What do you do for a living when you aren't daydreaming about being a professional triathlete?
IT security
Tell us about your family?
Tanya, my wonderful wife, and I share 5… well, I'll just say they're all teenagers. All within a 5 year difference. Ever seen the Brady Bunch? yeah, pretty much like that! Besides the teens, we have 2 other pets, Sam the lab, and ZEEK! the terrier.
Tanya did a few triathlons before we met, but now she's in charge of my support squad. And by support squad, I mean "great job on the race this morning!" as most race start early morning, and teens… well they don't.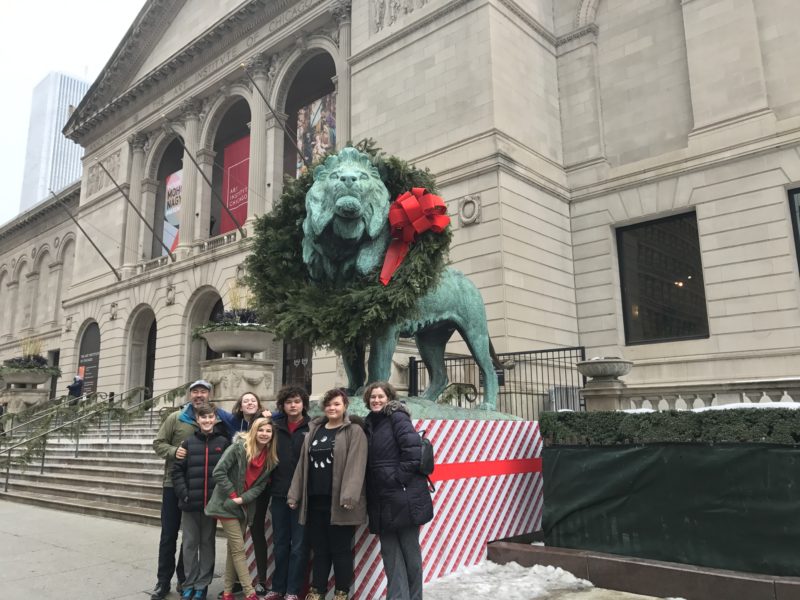 Any hobbies outside of triathlon?
I love learn things and try new experiences (and coupled with a dash of ADD), I've had quite a few hobbies over the years.
Most notable – I did roller derby for a few years, starting off as a ref for the local ladies team, Arch Rival Roller Girls, then helped start the mens team, StL GateKeepers. Also, I used to be a club/rave DJ. True story: I once opened for Benny Benassi.
My current hobby is trying to be a home gourmet chef. I love food. Yummy, tasty, decadent food. This hobby is one that my family embraces with delight.
All about Triathlon
What led you to triathlon?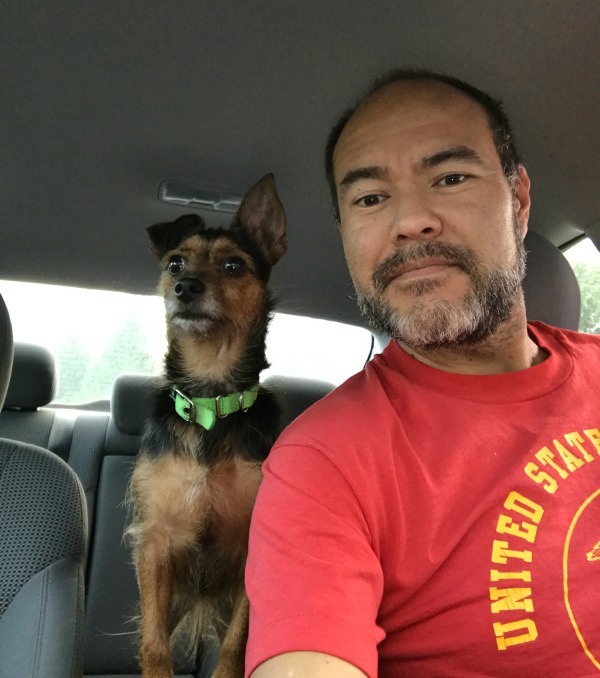 It actually started back in the mid 90s, when I was traveling the world in the Marines , I had a stop-over in Hawaii, just as the Ironman was happening. Got to see part of the race, and left a lasting impression as being something decidedly tough, that not everyone is able to start, let alone complete.
Then life got in the way (and that whole "hobby jumping" issue). That inspiration was finally renewed a few years back when watching the Kona race on TV, seeing the guy say "YOU ARE AN IRONMAN!". I wanted to hear the words with my name attached.
Your first triathlon? (any funny stories?)
I decided it best to start small, and signed up for the St. Peters RecPlex indoor tri. I found out about the transition from bike to run as I tried to run up the stairs to the treadmill, took a few steps, then found it best to walk up. Slowly.
Any experience in endurance sports prior to triathlon?
Yes
Explain your prior experience
Swimming: not really an athlete, but I gained a Master swim qualification in the Marines. Yes, I got to swim with some Navy Seals. Yes, they are that bad ass.
Cycling: I've always been an avid cyclist, have done a few centuries and tried my hand at the Tuesday night crits at Carondelet Park. Cycling is my favorite part.
Running: did cross-country in high school, did a lot of running in the military, and about a dozen marathons.
What workout do you look forward to doing the most?
not swimming.
What workout do you dread doing the most?
swimming.
Do you currently use a coach?
No
Activity you most look forward to doing in the offseason or to have a break from swim/bike/run?
doing a bit of traveling.
What are your short term goals? What about long term?
Gradually build myself up for that first long-distance tri. I plan on doing IM Louisville this year.
Why did you decide to join the St. Louis Tri Club?
When I mentioned wanting to do triathlons, a coworker, who's an avid cyclist, mentioned a friend in a local tri club.
I thought a group of like minded individuals might help with this journey.
Best piece of advice you heard or were given?
I'm a bit competitive. And once I put my mind to something, I go "all in." One of my friends said "you're trying to start this in the mid-40s. You should probably take it slow to begin with"
Whatever…
Favorite place to train in or around St. Louis?
I love to run around Forest Park. A lap around FP starting/ending at my house is exactly 10 miles.
At the Races
Favorite Race?
St. Louis Triathlon!
Most memorable, unique, or cherished race swag?
Podium, Baby! glass from TryTri last year
Dream Race?
Kona, duh!
Your normal go-to meal the night before a race?
don't have one just yet. but my last lunch is a good 'ol PBJ
Do you have any pre race rituals?
Listening to some Drum&Bass to psych myself up.
Proudest accomplishment or race result?
recently got 1st in AG at TryTri
Most embarrassing or disastrous moment during a race?
at Innsbrook HalfMax last year, I found I didn't tighten down the screws on the aerobar. That 5 minutes lost me 1st in AG.
now i triple check everything.
Furthest you've traveled for a race?
IM 70.3 Racine
Your Gear
Running Shoes
Hoka OneOne Clifton3
Bike
Trek Speed Concept
Swim Goggles
AquaSphere Kaiman Exo
Piece of tri gear you can't live without?
hat/visor
Race Day Nutrition
EFS drink, Gu Roctain gels, Stinger waffles.
Does your bike have a name?
Quickness.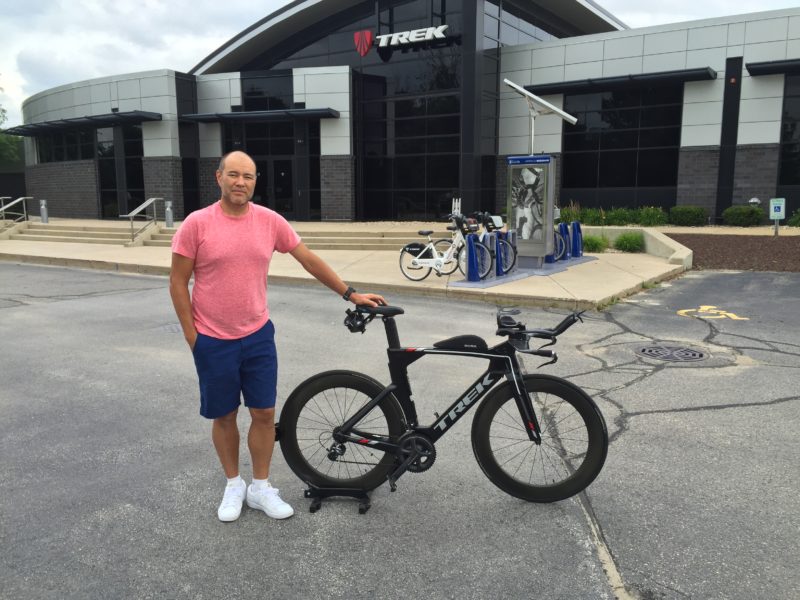 Your Favorites
Favorite Local Park?
Forest Park
Favorite Local Restaurant?
Posh Nosh (best reuben around!)
Favorite Musician/Song?
Pink Floyd-Learning To Fly
Favorite Movie (or last one you watched)?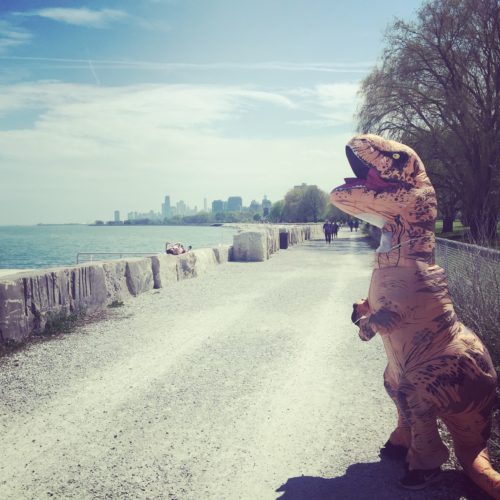 40 Year Old Virgin
Favorite place you've visited?
Japan
Favorite TV show (or one you last binge watched)?
24
Favorite ice cream flavor?
vanilla with Reeces cups
Favorite comfort food?
PBJ
Is there something you'd like to share that wasn't covered in any of the previous questions?
I enjoy the camaraderie, experience, and enthusiasm you all bring to this sport!