Do you consider St. Louis your hometown?
Yes
What do you do for a living when you aren't daydreaming about being a professional triathlete?
Mental Health Therapist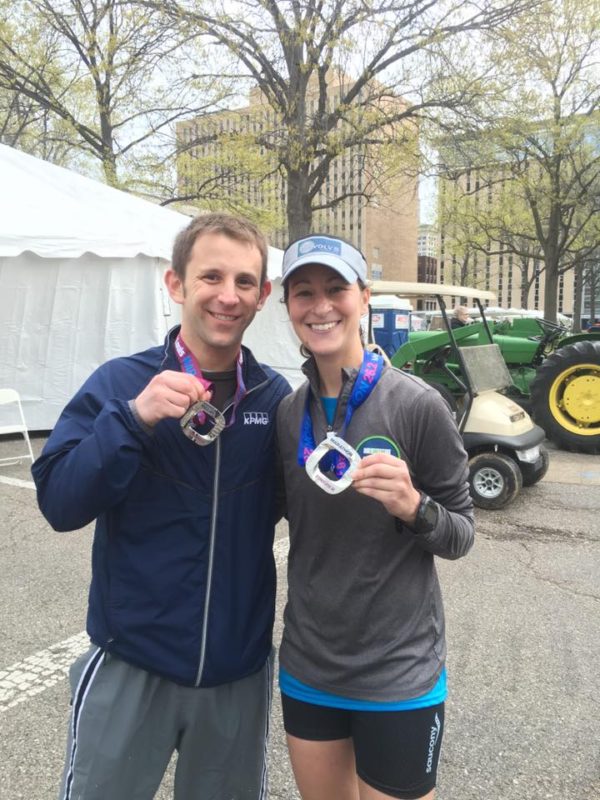 Tell us about your family?
My husband Josh and I will be married 5 years this June! Together we have two dogs, Stu and Ducky and a 4 month old daughter named Mia. Stu and Ducky taunt me every time I am on my trainer by putting every toy they own by me and then starring at me like I am meanest person in the world. Josh is always out there cheering me on and just recently I ran my first race since Mia was born and it was so cool to see them cheering me on at the finish line!
Any hobbies outside of triathlon?
I love to read and am trying to learn how to garden. I pretty much love to do anything outside.
Did you attend high school in St. Louis?
Yes
Which one?
Parkway North a long long time ago
All about Triathlon
What led you to triathlon?
Brant Kraner (also a tri club member) talked me into buying a bike and joining the club. Thanks Brant!
Your first triathlon? (any funny stories?)
My first race was the Kirkwood Triathlon 2012. I was told it was a good race to start with and it was!
Funny stories? Hmmm…no one told me you weren't supposed to wear underwear under your tri shorts!
Any experience in endurance sports prior to triathlon?
I didn't have a whole lot of experience prior. I did my first half marathon in 2009 and have been hooked on running ever since.
What workout do you look forward to doing the most?
Running. I always know I am going to feel awesome after I finish a run and I crave that!
What workout do you dread doing the most?
Swimming. Being cold and wet is the worst!
Do you currently use a coach?
Yes
Who is your coach?
Samantha Murphy
How has coaching changed or helped the way you train or race?
Coaching has changed and helped me in every aspect of racing. I cannot say enough about how awesome Sam is!
She not only has made me physically a better racer but she has made me mentally a better racer too and that is HUGE!
Activity you most look forward to doing in the offseason or to have a break from swim/bike/run?
Offseason? What's that?
What are your short term goals? What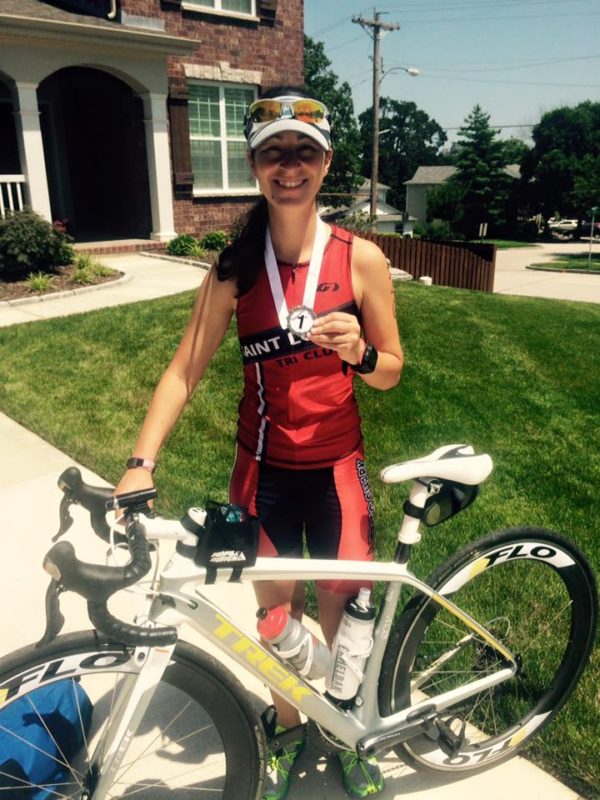 about long term?
Short term goals – getting back into shape after having my daughter
Long Term – whatever I'm talked into is usually how this works
Why did you decide to join the St. Louis Tri Club?
Brant Kraner talked me into it and I am so glad that he did!
Best piece of advice you heard or were given?
HTFU.
Favorite place to train in or around St. Louis?
Forest Park
At the Races
Favorite Race?
St. Jude Marathon
Favorite Local Race?
Quivering Quads and GO!
Most memorable, unique, or cherished race swag?
NYC Marathon gave an amazing fleece lined poncho to athletes at the finish of the race. I love that thing and use it post race all of the time!
Dream Race?
Boston Marathon
Your normal go-to meal the night before a race?
Pasta
Do you have any pre race rituals?
Does being nervous count?
Proudest accomplishment or race result?
Breaking 4 hours at the GO!
Most embarrassing or disastrous moment during a race?
I forgot a race belt once and Deb Siewing made me one out of a shoe lace. It was awesome. I keep the shoelace in my race bag still just in case!
Furthest you've traveled for a race?
Tri – Michigan Running – Seattle
Your Gear
Running Shoes
Brooks Ravenna
Bike
Trek Silque
Swim Goggles
Speedo
Piece of tri gear you can't live without?
Garmin.
Race Day Nutrition
I always bring my own! I use clif vanilla gels only!
Does your bike have a name?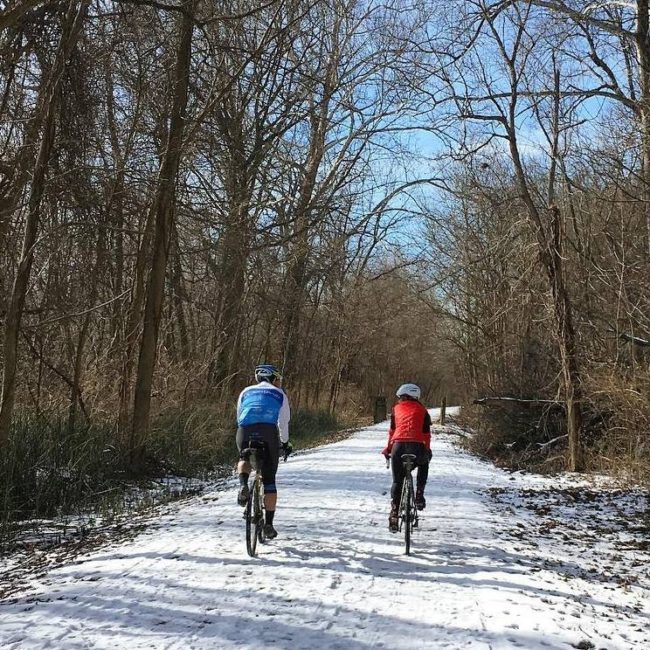 My cross bike is named Cruella Deville.
It's black and white.
My road bike is only a few weeks old and hasn't been named yet.
Your Favorites
Favorite Local Park?
Forest Park
Favorite Local Restaurant?
LuLu local eats
Favorite Book (or Last one you read)?
When A Monster Calls
Favorite Musician/Song?
The Beatles
Favorite Movie (or last one you watched)?
Jurassic Park
Favorite place you've visited?
Greece
Favorite TV show (or one you last binge watched)?
Currently – This is Us
Favorite ice cream flavor?
vanilla
Favorite comfort food?
Pizza