To those who are lucky to know Ryan Metcalf, you know what a classy and genuinely kind person he truly is. His presence is felt during races that he competes in as well as races he volunteers for. His spirit and positivity travels with him every where he goes. For those who don't know him, here is what you need to know before you meet him in person, at a race, on a ride, or at a meeting. Ryan was born and raised in St. Louis and attended Parkway North High School; for all you St. Louisans who love to ask the question "Where did you go to High School?". As an adult he left twice, but something about this beautiful city brought him back. What keeps him in St. Louis is family and the communities that he is a part of, though if he could get a job within 2 hours of the Rockies, he says he'd be gone in a second. Not so fast Ryan, I think our board has to vote on that!
For work, he is a number cruncher, as he calls it. He uses statistics and computer programs to analyze data for information gathering and decision making. Wow, that sounds smart, well the fact of the matter is that he is! And when you meet Ryan, you always walk away with some new knowledge you had not known before. Even during the Big Shark tire class, he educated us on all sorts of bike related facts that blew our minds. As for the main love we share as part of this tri club, Ryan started indoors triathlon racing in 2009 with his first full out door season in 2010. Prior to triathlon, he claims he was a couch potato with health challenges that deeply concerned him. But one day he made a choice — he told himself that if he swam, biked and ran each sport 3 times a week and ate healthy, that he had a chance of turning his life around. And judging by what a beast Ryan is these days in the sport, you would agree that he made it happen.
But what kept him going? Many people struggle with maintaining that determination, keeping that fire burning per se. For Ryan, he fell in love with triathlons because of 3 things:
1) The St. Louis Triathlon Club is a wonderful team and community — Many of his closest friends today are club members. They laugh together, sweat together, but when it comes down to business, there is no one better than your friend, who is a team mate, to run along side you and push you past that wall to success.
2) He likes the challenge the sport offers — Ryan in his own words: "Each workout can be a challenge, or a goal for a race, or the course a race offers, or sometimes just finishing. There is always a challenge offered in this sport, even if it's just having the best interval workout the next time I get on my bike".
3) He enjoys the isolation and intimacy of the sport — As most triathletes know, it is as much a team sport as much as an individual sport. The homework is done when no one is watching and the miles put down are sometimes the loneliest but also the most character building. It's a weird dynamic, he says, because I do enjoy the company of the teammates I train and race with, but I also greatly enjoy the time in thought this sport offers. There is nothing I enjoy more than the calm quiet moments that occur all throughout this sport.
I asked Ryan to share his memories of his favorite races, favorite distances and sure enough, he had this solid yet fierce answer : "I don't have a favorite distance. I choose my races based on the challenge or experience offered and my goals versus the race fee. I do think sprints tend to be expensive from that perspective. I mean, you train for 3 or 4 months and race day is the reward, right? I want my reward to last a while and sprints just seem to be over too soon for the money and time spent training. That said, a sprint or olympic distance race can be just as hard and rewarding as a half or full depending on what my goals are and how I race it. I raced the Racemaker Trifecta short course this summer with the goal of pushing myself the entire race. I threw up after I crossed the finish line (and I've never thrown up during an Ironman). It was a great experience with lots of good friends that day. I'm also a sucker for peer pressure and will sign up for races my friends are doing.
So with the experience he has gained under his belt since 2010, I asked Ryan what advice he had for beginners. Those of us who know Ryan, know that he thinks seriously and deeply before answering you and you really do learn a lot from him. This is what he has to share: " In no particular order: don't quit, give yourself credit, do not be intimidated, train with people better than you, surround yourself with experience and listen to what they have to say, be willing to suffer, this sport is mentally tougher than it is physical so your attitude is everything, set goals for yourself that are challenging but achievable, have fun, learn how to take care of your bike and how to change a tire, take care of your core too, it's OK to have a bad workout or race just make sure you learn from it and get back at it, HTFU – Harden The F$$k Up, train and race with Relentless Forward Progress. Two other things: 1) the only equipment you really need for this sport is a tri kit, goggles, a bike, a helmet, and running shoes. All the other gear and gadgets are optional (though some really do improve your experience and performance). 2) Remember how awesome you are for attempting this sport. It's hard to find numbers, but somewhere between 1 and 3 million people a year do triathlons, so something like 99% of the US population isn't even attempting what we are doing. No matter how slow you go, you are faster than a person on the couch. Heck, I'm slow, but I'm so much faster and healthier than the person I was in 2008″. Thank you Ryan, wise words coming from a person who whether you are on a training ride, or a camp focussing on the Swim, Bike or Run, you know that Ryan will be there to support you and encourage you.
As many of us are entering our off season, I wanted Ryan to talk specifically about his training program because, not matter which athlete you talk with, you can always take away something key from the person's workout regime and incorporate it into yours. So the winter season for Ryan involves a dedicated focus on core strength and maintaining his aerobic base. He swims 2-3 times a week, and bikes and runs 3 times each a week. In mid January and February, he starts to increase the intensity of the workouts, while also focusing on non-triathlon things he neglected during the tri season." Tri season involves a lot of sacrifice. Friendships, chores, sleep, household projects, reading books, watching movies, weekend get-aways, spouses, etc get neglected. It's important to catch up on these things during the winter."  One aspect of his recent success is hiring a coach – the fierce Samantha Murphy of Evolve Coaching Systems. Ryan in his own words "Sam and I were friends before she started coaching, and I have always greatly respected her both as an athlete and as a person. This continues now that I am one of her athletes. I am a very self-motivated person, but my relationship with her does help keep me motivated. I know she is always looking for my next workout results, and because I respect her I do not like letting her and myself down. She listens to what my goals and concerns are, treats me with respect, pushes me to be better.  I can trust that her workouts and her programs are getting me to where I say I want to be. Also, every so often, she calls me out on my bs, and I need that. I need to be reminded the only one that can hold me down is inside my head".
Aside from spending time swimming, biking and running, Ryan is married to his beautiful wife Candace for 9 years now. They met serendipitously in 2002 and he says he still remembers the first time he saw her, and how he wanted to talk to her but was scared to. Luckily, early in their conversation, they figured out that they were Seinfeld fans and the rest is history. He also wanted to take a moment to brag about Candace's new found love of cycling that she took up in in November 2013.  She rode on a trainer through the winter and got outside in early spring. Ryan says that this year he has watched her gain confidence, endurance, speed, toughness, and lose over 12 pounds and has made significant life style changes for herself while also participating in our tri club's mentoring program. Ryan says: "I am very proud of her and I truly love looking over my shoulder when we're riding and seeing her by my side." Another significant contributor to Ryan's happiness is their dog Daisy, who is a 6 year old Golden Retriever. They got her at 10 weeks old and with diligent obedience training, this dog-athlete was accepted into Support Dogs' TOUCH Therapy Dog program at the tender age of 2. Ryan and Candace volunteer with Daisy every week: Candace goes to Barnes Extended Care, a nursing home in Clayton, and visits with the patients. Ryan takes Daisy to the Siteman Cancer Center's main campus at the Barnes-Jewish Hospital and they visit cancer patients while they're getting chemotherapy. Ryan and Candace have also become very involved in the Support Dogs organization by serving on event committees and Ryan has participated in the Ironman Foundation and raised over $1,500 for Support Dogs. In addition to the TOUCH Therapy Dog program, Support Dogs raises and trains service dogs for people with disabilities. It costs around $20,000 per dog to accomplish this, and Support Dogs places these service dogs with disabled people for free. This organization is very near and dear to Ryan's and Candace's heart and they encourage you dog lovers out there to check out such programs in your community.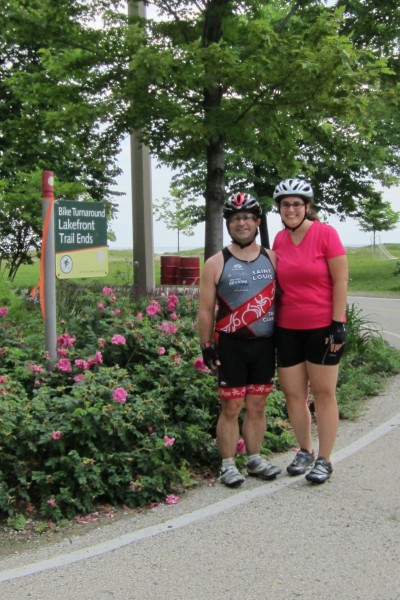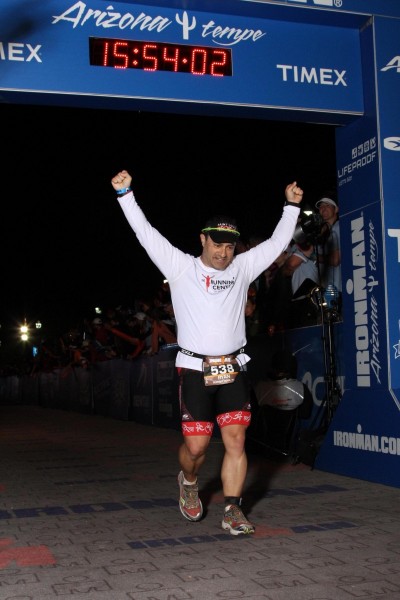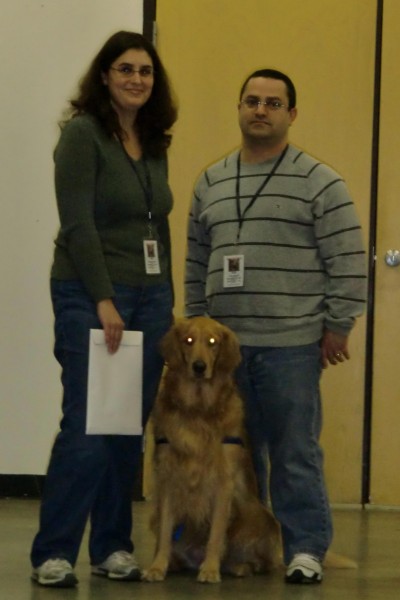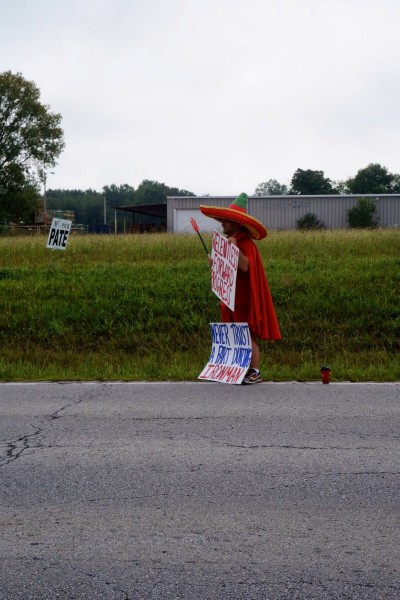 Well, I hope you got a peak into who Ryan is on the inside. To many of us who have known him for years and to those who meet him for the first time, cheering his lungs out on the side lines, you know that he is one cool dude and one of the most supportive team mates you can ever ask for. Cheers Ryan! We thank you for everything you do for us as a club and hope we can return the favor(s) soon!
(Thanks to club member Graziella Amarasinghe for writing this featured profile of Ryan.)