Personal Info
Do you consider St. Louis your hometown?
Yes
What do you do for a living?
Structural Design Engineer with major aerospace company
Tell us about your family?
The Duchek Family works to participate in, volunteer for and/or support our local multi-sport events. My supportive wife, Jennifer, has braved the cold or tolerated the heat for many of my early races, and she joins in for 5K or shorter running events. Adam ("AT") is our eldest son, age 12, and has completed about 22 – 5Ks, 10 Kids Tris & 14 Rec Plex Indoor Tris. Younger son, Devin ("Devinator"), is 11 years old and has completed about 23 – 5Ks and finished his first Kids Tri this year. Sheba ("good for nothin' dog) is our 65-lb Yellow Lab/German Shepard Mix and has finished the Macklind Mile / Dog Mile 3 straight years!
Any hobbies outside of triathlon?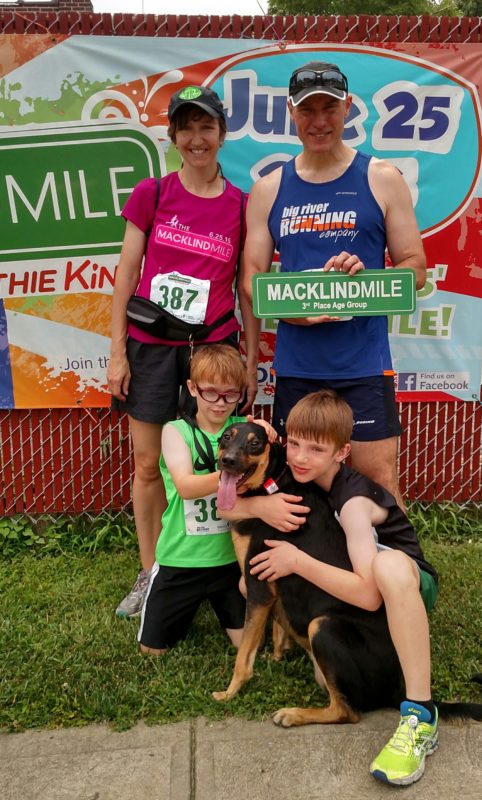 For kicks (and punches), I am a 3rd Degree Black Belt Taekwondo Instructor and Referee/Judge. Jennifer teaches Zumba. A
dam is a Boy Scout, Wrestler, Soccer player and Baseball player. Devin enjoys Scouts, Wrestling, Soccer and Baseball also. Sheba sleeps.
All about Triathlon
What led you to triathlon?
While on a 6-month work assignment in the State of Washington with Jennifer and the boys remaining in St. Louis, I was looking for a way to stay out of trouble while I was living on my own. Mountain hiking (not mountain biking) with my work teammates was one productive activity I enjoyed, but I was also encouraged by my company and a few work teammates to train for and run a half marathon. In 2011, I ran my first 13.1. The next year I started training with Big River's Training Teams and getting to know several runners who were also Triathletes. By 2014, I was looking for "more", remembered a local article about JP Palmer that mentioned SLTC, and joined the club that February. Jennifer & the boys came to my first "big" race in 2011, which was the R&R Half. The family came to watch a couple of more races, but in 2013 the boys willingly allowed us to sign them up for a fun run at the GO! St. Louis All-American 5K. In 2014, Adam graduated to 5Ks and Devin moved up to 5Ks starting in 2015. Each has completed more than 20-5Ks along with several shorter races. By willful suggestion, both boys have also stepped into the multi-sport arena.
Your first triathlon
Ballwin Triathlon – a hot summer day in July 2014. Meticulously planning my every move, including training in the event pool and biking/running the courses, I was ready for this! I even planned my podium speech. The family was there for my 6:45am start. Controlling my adrenaline and nerves by making one last trip to transition I was satisfied I was as prepared as I could be for my first ever Triathlon. The clock at the pool wasn't quite to 6:40 yet, but the man on the loudspeaker announced "one minute 'til start!". What? I was still controlling my adrenaline and nerves, remember? I sprinted up the hill to the pool entrance, ran to my lane, jumped in the water, asked the man sharing my lane "is this side okay?" and then….the blaring sound of the horn. With my heart racing, I shot out into the water and never looked back. As I had "planned", I did podium (3rd of 17 AG) but never got to present my speech. Some things just don't go as planned, but still work out okay.
Any experience in endurance sports prior to triathlon?
I raced Bicycle Motocross (BMX) between the ages of 14 and 18. At the age of 16, I was eligible to turn pro, but opted to stay amateur and get into girls and cars. Guess that worked out okay, but I soured on bikes for awhile I stopped racing. In high school I ran sprints and hurdles, but nothing long. It wasn't until running my first half marathon in 2011 that I considered myself an endurance athlete. There were many 5Ks, half marathons and marathons that followed. So I am/was a runner first.
What workout do you look forward to doing the most?
Long, smooth bike rides with nice scenery (and weather).
What workout do you dread doing the most?
Speedwork on foot (sorry Matt Helbig). Big River has put on the best speed training each summer but I just can't help dreading the "6-lane house of pain".
What skill or ability of your least favorite discipline do you most want to learn to do well?
In the pool, I need to turn my flop turns into flip turns….anybody help?
Activity you most look forward to doing in the offseason or to have a break from swim/bike/run?
Softball with my fraternity alumni team
What are your short term goals? What about long term?
Short term I want to get faster and have fun with my fellow club members. Long term I see Sprint Duathlon World Championships and my first full Ironman. I'd also like to volunteer more and help my boys appreciate the many benefits of multi-sport (and they learn the importance of volunteering).
Why did you decide to join the St. Louis Tri Club?
Initially I joined to meet people who could help me learn how to become a Triathlete and act properly at races (like not preparing a podium speech).
What is your favorite part of being a member of St. Louis Tri Club?
Building friendships and enjoying camaraderie through training, races & social time is definitely my (and my family's) favorite part of being members of this awesome club! Our fellow members are our support and inspiration. We really appreciate that and hope we can support and inspire.
Best piece of advice you heard or were given?
Relax – enjoy the ride!
Favorite place to train in or around St. Louis?
Forest Park for running, Grant's Trail for biking, Whispering Hills for swimming
At the Races
Favorite Race?
Chicago Marathon
Favorite Local Race?
Wood River Triathlon
Most memorable, unique, or cherished race swag?
Love those St. Louis Triathlon socks Rich Adams!
Dream Race?
Kona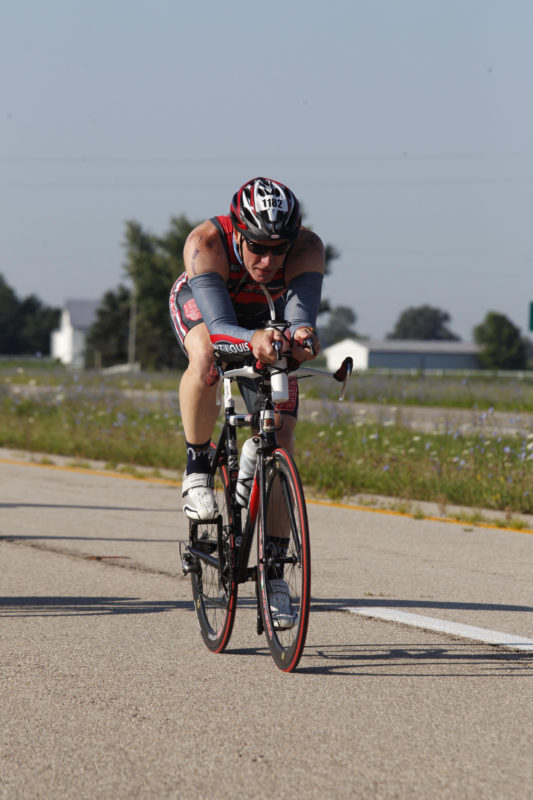 Your normal go-to meal the night before a race?
Pasta
Do you have any pre race rituals?
Beet juice and dynamic stretching, that is about it.
What is your single greatest challenge on race day?
Keeping my heartrate down on the run. I've developed quite an adrenaline response which shoots my heartrate way high for an old guy like me.
Proudest accomplishment or race result?
20.4 mph average on the bike at Ironman 70.3 Ohio.
Most embarrassing or disastrous moment during a race?
The bloody nipple during my first marathon – it looked like a gunshot wound on my white shirt!
What was the worst weather you have ever raced in?
I think I've been fortunate on this one because no race ever seemed too extremely cold, hot, windy, wet or icy.
Furthest you've traveled for a race?
St. Louis to Delaware, OH is about it.
Your Gear
Running Shoes
Nike Pegasus
Bike
Motobecane Nemesis (currently building Trek Equinox)
Swim Goggles
TYR Special Ops
Piece of tri gear you can't live without?
A featherweight hat (that is tri gear, right?)
Race Day Nutrition
Used to be a GU guy, now opting for the chews. Always brought my own.
Does your bike have a name?
No, I am not Bill Sanders.