Personal Info
What do you consider your hometown?
Evansville, IN
What do you do for a living?
Electrical Engineer Boeing
Tell us about your family?
Married for 30 years to Barb. We have two adopted children, Andrew 22, and Daniel 19. Andrew was married this past October. He is a chef. Daniel is wanting to join the army. My wife is my biggest fan. She loves it when we travel for triathlons. It takes us to places we wouldn't ordinarily go. Daniel participates in one triathlon a year… the TriZOU super-sprint.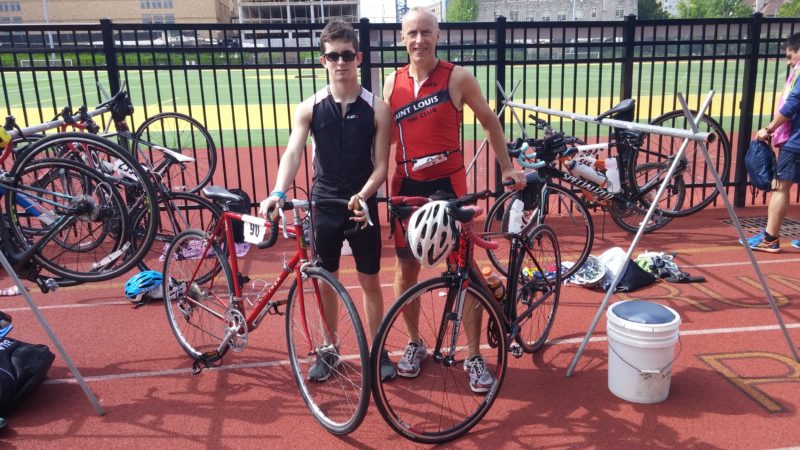 Any hobbies outside of triathlon?
I've been active in the Cub/Boy Scouting program for over 15 years. I've held most possible adult positions from den leader, cub master, and assistant scout-master. I'm also a licensed amateur radio operator. I have made contacts all over the world using my radios some of which I built myself.

All about Triathlon
What led you to triathlon?
A few years ago, I was asked to participate on a team in the Lake St. Louis Triathlon, the run leg. After that experience I was inspired to try the entire event myself. Been hooked ever since!
Your first triathlon
Lake St. Louis Triathlon Sprint was my first. I did sprints for a year before attempting the olympic distance. My first olympic was the Tri-Louisville Olympic because it was flat and a nice down stream river swim. I remember passing two barges (parked on the shore) during the fast swim.
Any experience in endurance sports prior to triathlon?
I started running when I was 14 years old, competing in my first road run, the Marine 10 Miler in Evansville, IN. I completed two marathons before high school graduation. One on the day before graduation. I could barely walk! My best marathon was Rocket City Marathon where I ran a 2:44. My first 20 miles was 1:59 before crashing. That was back in 1984 and my last marathon. I ran cross country and track for the University of Evansville, and competed in several corporate events for McDonnell Douglas.
What workout do you look forward to doing the most?
A nice trail run on a cool afternoon. Queeny Park trails is one of my favorite spots.
What skill or ability of your least favorite discipline do you most want to learn to do well?
Before tri's, I NEVER swam a race in my life. YouTube has been my friend! I spent a full winter watching YouTube videos and going to the YMCA pool (at odd hours so no one could see this man attempting to freestyle). I think I've done a pretty good job considering I'm swimming average for my age group.
Activity you most look forward to doing in the offseason or to have a break from swim/bike/run?
I like hitting some of the Winter time running races
What are your short term goals? What about long term?
Short term goal is to finally complete a half Ironman. My first attempt was in New Orleans this past October. It was CANCELLED due to bad weather. Next attempt will be Chattanooga, TN in May, 2018. Long term goal is to reverse this aging process that keeps making me slower every year.
Why did you decide to join the St. Louis Tri Club?
Great people, training opportunities, great advice, and great discounts!
What is your favorite part of being a member of St. Louis Tri Club?
Over the past few years, I really feel like the club members are a family. Just outstanding the friendliness I've encountered. I look forward to events and seeing other club members and hearing the cheering me on.
Favorite place to train in or around St. Louis?
Love Newtown for flatness, but out by St. Albans is challenging for hills
At the Races
Favorite Local Race?
St. Patricks Day 5 miler. I've only missed two races since 1984
Most memorable, unique, or cherished race swag?
Litchfield Triathlou finisher medals was in the shape of an outhouse.
Your normal go-to meal the night before a race?
My wife's spaghetti and meatballs
What is your single greatest challenge on race day?
I'm still a bit nervous about the open swims. I've been to the point of new panic attacks in the water, especially when in close proximity of 100 other athletes!
Most embarrassing or disastrous moment during a race?
Disaster struck at the St. Peter's Rec Plex Spring Triathlon this year. The roads were wet from an earlier rain. I lost control and hit the pavement hard breaking my elbow. Two days later, I had to have it surgically repaired. I guess the most embarrassing part was when waiting for the ambulance lying on the ground, I had to explain what happened to all the Tri-club members passing by 🙂
What was the worst weather you have ever raced in?
St. Patrick's Day 5 miler one year, temperature was below zero. Windchill was worse.
My first Litchfield Triathlon, temperature was 39 in the early morning. This was in September and the water was a balmy 75 degrees. Everyone was in the lake to keep warm!
Furthest you've traveled for a race?
New Orleans for Triathlon. San Francisco for a corporate race. So somewhat of a funny story. While in New Orleans at the Ironman, we were standing in the pouring rain at 5:30 AM. A gentleman walked up to me and asked "Do you know Bill Sanders?" EVERYONE in the world must know Bill. I'm impressed.
Your Gear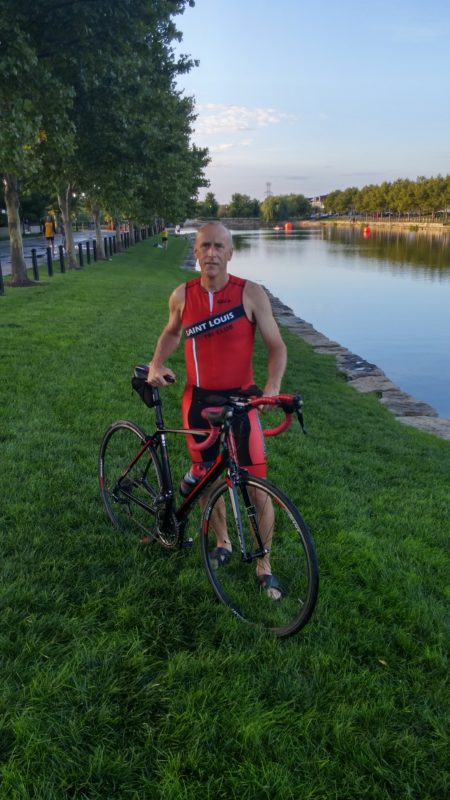 Running Shoes
Nothing but Asics
Bike
Giant Defy 1
Swim Goggles
cheapest pair I can find
Race Day Nutrition
Lots of gel packs, and EFS drink
Does your bike have a name?
No, but I treat it like a friend
Your Favorites
Favorite Local Park?
Creve Coeur Park
Favorite Local Restaurant?
Hacienda Mexican Resturant
Favorite place you've visited?
Singapore, and South Korea
Favorite TV show (or one you last binge watched)?
MASH
Favorite ice cream flavor?
Butter Pecan