Probably the hardest obstacle when writing these athlete spotlights is trying to capture the awesome spirit of the person in question.  Tim Fowler is no different.  As I struggled with this article, attempting to find the perfect words to use in describing Tim, I came across a meme on Facebook that highlighted the following words: "The only limits in life are those you impose on yourself."  If you know Tim, then you know these words accurately describe the way he looks at life.  Not only is Tim dedicated, friendly, and determined.  But did you also know that he is courageous?
Born and raised in the South, Tim spent most of his life in both North and South Carolina until moving to the Saint Louis area in May of 2015 for a job. Like many kids, Tim grew up super active (including swimming) until he was diagnosed with an auto immune disease called Juvenile Rheumatoid Arthritis (JRA) at the age of 9: "I went from being hyper active to crawling on my hands and knees to get around in a matter of months."  Turning to more indoor activities, Tim took up music in middle school and performed with multiple youth and symphony orchestras as a trumpet player.   Though he considered a career as a musician, ultimately Tim became an Ethical Hacker/Digital Forensic Investigator in the information security industry: "Basically I get paid to break into networks, systems, buildings and sometimes people's lives…as long as there is a signed contract, of course."  Basically, he identifies vulnerabilities and weaknesses in corporate networks and infrastructure to assist them in better securing their environments.
In his personal life, Tim eventually applied his talent for identifying weaknesses by tackling his own.  While receiving treatment for JRA (which included chemo) when he was younger, he began to rapidly gain weight because of his enforced inactivity. Then, after multiple severe knee injuries and subsequent surgeries, he become almost completely sedentary: "My weight ballooned upwards of 380 pounds by April of 2014 and I had lost the ability to do the things I really enjoyed because of my size. Nothing worse than loving to ride roller coasters but being too big to ride them, or not even be able to walk through the park because your ankles would become swollen in minutes of standing on them."  Not happy with his body, Tim decided to do something.  Tim "had enough and wanted to do something, anything" about his unhappiness with his body and he decided to start swimming again.  But after initially being fearful of the pool on his first visit to the local YMCA, he hopped on a stationary bike and eventually started walking on a treadmill.  His first experience on the treadmill was life changing: "It took me almost 22 minutes to do [a mile] but after getting off of the treadmill, I was happy that the trip wasn't a waste."  That new-found dedication continued after his first day and he enthusiastically embraced swimming!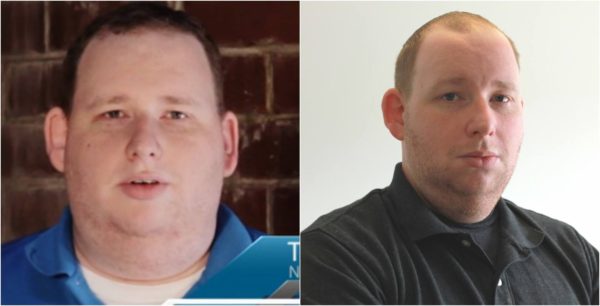 Eventually, some coworkers talked Tim into swimming on a relay team for the October 2014 Beach2Battleship 70.3 race. He had no idea what he was getting into.  After his boss introduced him to a video of the 2012 Kona World Championships (so he would have an idea of the sport he was going to be participating in), Tim was hooked.  He completed his segment of the race that day; however, due to his size and being on his feet all day, he never got to cross the finish line with his teammates even though he had lost 70 pounds by this time.  On October 21, 2016, not only did Tim finish what he started at Beach2Battleship but he got to complete the race in the presence of his parents: "Seeing them on the side of the chute as I headed toward that finish line was overwhelming to say the least. To go from a boy who basically couldn't walk to completing my third 70.3 race in just over a year's time with my parents cheering was everything I could have hoped for and more."
When I asked Tim about his reasons for retaining a coach (Samantha Murphy from Evolve), he notes that "My coach has helped me overcome many of the fears and self-doubt that has plagued me for as long as I can remember. She has helped me see myself as an athlete for the first time in my life. Outside of a training plan and what and when to eat, having a coach has helped me understand myself and what I am capable of doing."  Tim also commented on the wonderful feeling of having a team of like-minded individuals around you to help with long workout weekends and moments of lagging motivation.  In fact, one of Tim's Evolve teammates and her husband (John and Carrie Tillott) made the trip to the race in North Carolina to support Tim in his race.  He continues to be touched by that gesture.
Clearly, Tim is a fantastic symbol of the challenges and camaraderie that represent the sport of triathlon.  If you know Tim, you know that he is an amazing individual who bravely takes on challenges all the while balancing a busy professional and sporting life.
A little-known fact about Tim?  When he is not working or training/racing, you might find him in front of the large screen — he loves movies!  He even spent a few years working for a small movie studio learning everything he could about the process of making films. One day he hopes to come back to back to film making and produce his own short film project.  And maybe we viewers will be lucky enough to continue to learn even more about this amazing mind and athlete!  If you haven't had the chance to meet Tim, be sure to introduce yourself!