When I emailed St Louis Triathlon Club member Awilda Esclusa to ask her about her experience with triathlons, I noticed an interesting quotation at the bottom of her reply:  "Your body can stand up to almost anything.  It's your mind that you have to convince."  As someone who has trained with Awilda with IronBrick Training, I can think of no better words to describe the enthusiasm, dedication, and perseverance that she brings to the sport of triathlon – and to her club, its members, and her friends.
Originally from Puerto Rico, Awilda was at first fearful of the word "triathlon":  "I never imagined I would ever run 13 miles, much less break out the old swim suit and swim cap to race lap after lap against myself, or invest in a professional bike to participate in this race they call Ironman.  Just the name itself sounds like an event for Marvel Comics' superheroes."  When Awilda's children, Erica and Juan, started participating in sports when they were younger, she noticed — and admired — their competitiveness and dedication.  Supporting them in track and field and cross country, Awilda immediately was drawn to the social aspects and the friendships she watched her children develop: "During those years there was a strong sense of accomplishment reflected in the many medals all over our home."  Not too long after, a friend gave her a book to train for her first half marathon.  After an amazing fifteen races, she was convinced by her son-in-law, Zach, to join him in training for a Half Ironman:  "Once I was committed, similar to my kids, I was all in."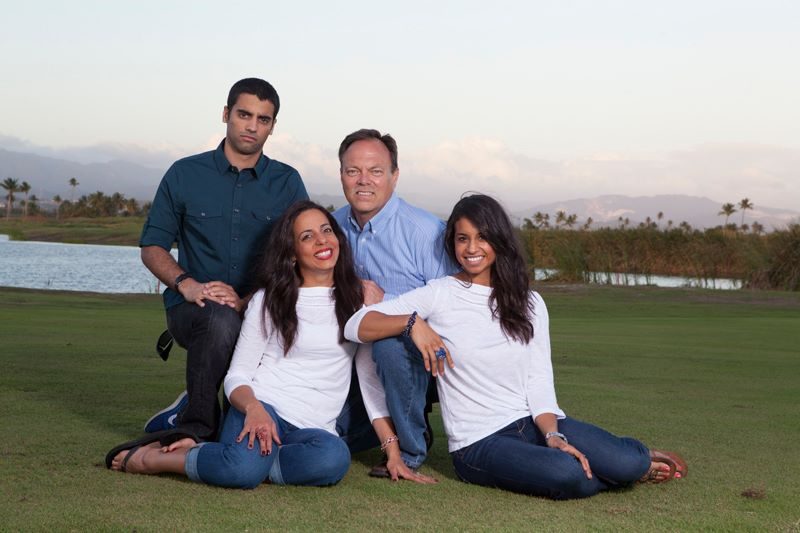 On her road to participating in 70.3 events, Awilda hired Coach Paul Schon of IronBrick Racing.  Like many beginners to the sport know, it is easy to get intimidated by all the items an athlete needs to purchase in the beginning.  In addition, it can be difficult to determine the hours of training needed (in terms of intensity and drill rotations) as well as nutritional needs while training and racing.  Awilda remarked that Coach Paul helped her in all these areas: "He was very helpful.  He is full of knowledge and ready to share it!  I have to acknowledge that my experience would have been totally different if I had to try to do it all on my own or with a different coach."  When I asked Coach Paul about his own experience with Awilda, he also had nothing but positive comments: "Awilda is known around our Team for her positive attitude and amazing work ethic!  She consistently demands the max effort from herself and that, in turn, motivates all those around her! Awilda has been an IronBrick client for about a year now and she has become a legend among our group for her sense of humor and infectious smile! I know of nobody that can laugh, smile and then ask for another hard set!!"  During our indoor winter training events earlier this year, I can attest that Awilda would push our group so much with her sense of humor and work ethic that she helped me better understand my own perceived limitations (and I fell in love with the Puerto Rican music on her playlist!)
For those thinking of adding a half marathon to an upcoming race schedule, Awilda would suggest considering the Oklahoma City Memorial Half Marathon (usually held around Labor Day); the city comes out to remember all who died when the Alfred P. Murrah Federal Building was bombed in 1995 and there are signs with their names and pictures everywhere on the course.  As Awilda notes, "it is very emotional."  In terms of triathlons, Awilda would suggest her first, Ironman 70.3 Raleigh in North Carolina: "I was very excited and nervous at the same time … It was funny to see my daughter as a spectator and not an athlete.  As soon as I saw her the first thing out of my mouth was 'Where is Zach on the race now?  What is his pace?'"  Yep, a triathlete was certainly born on the day!
When not working her job in finance or spending time training for upcoming events, Awilda and her fabulous husband Mike own a boat at a marina on the Mississippi River:  "I love to be on the water; it is peaceful, relaxing, and perfect to sit and do nothing after a long bike ride."  She obviously loves to spend time with her children, including her three step-kids, Kara, Brian, and Sam.  At the moment, Awilda is training for the Army Ten Miler in Washington DC in October (another race she will be completing with her son-in-law who is a soldier in the Army!).  She is also thinking about completing another triathlon at some point this fall and looks forward to doing some races with her teammates (like Marian Holtz!).  She once told me that she has "uncovered a true passion and a competitor's heart" that has been hiding in her "Puerto Rican soul all along."  That passion is definitely out and I hope you all get the opportunity to get caught up in Awilda's enthusiasm!