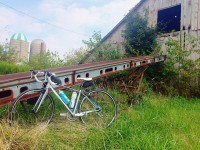 One of my favorite writers, Maya Angelou, once remarked, "You may encounter many defeats, but you must not be defeated. In fact, it may be necessary to encounter the defeats, so you can know who you are, what you can rise from, how you can still come out of it."  Our featured member this month, Angie Dolosic, is a perfect representation of these words.  She may have a minute of defeat but she takes that opportunity, "rises," and "comes out of it" a stronger person and athlete.
Born and raised in Granite City, Angie moved out-of-state in 2000 but returned home during the summer of 2013 (where she lives with two cat-kids!).  She works in the rewarding position of a school psychologist with the Special School District of St Louis County.  Like her personality and her willingness to connect with each and every club member she meets, Angie works in a job where she can push people toward goals, achievement, and success.  Angie had a "whirlwind courtship" with a hybrid bike in 2012 which led her to buying her first road bike in 2014.  She became involved with triathlons indirectly as a result of strength training and cross training.  She adds, "that one thought led to another" and voila!  A triathlete was born!  After joining the St Louis Triathlon Club in April 2015, Angie attempted to complete her first triathlon at the ill-fated Lake Saint Louis Triathlon in August.  Once Angie reached the half-way point, the race was discontinued because of thunderstorms and dangerous weather.  I happened to see her face when we racers were headed back to transition in the midst of torrential rainfall.  I don't think I have ever seen a more disappointed look than Angie's face on the side of the road realizing that the race had been stopped.  But I was so delighted when I discovered shortly after that Angie remained perseverant and immediately signed up for the Litchfield Triathlou event a few short weeks later.  Luckily, since I was also present at that race, I was able to watch Angie compete and finish her first official triathlon – getting second place in her age division to boot!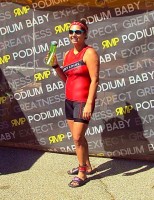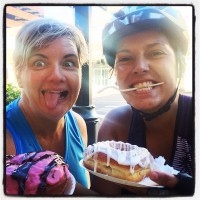 Giving huge credit to fellow member Heather Reed (her amazing triathlon mentor!), Angie has advice for members even newer than herself: "Don't be afraid to reach out and connect with fellow tri-clubbers …. It can be intimidating to train with others but training with other members can motivate you … and it's such a powerful feeling when you can share your experiences with others … the joy, the pain, and every emotion in-between."  One of those "in-between" moments might be her first time putting on a wet suit when she attended one of the open water swims in New Town.  When fellow member Grazie Amarasinghe helped her with her wet suit by reaching inside and giving it "the ol' heave-ho," Angie remarked that moments like this show fellow members "surpassing the friendship zone and becoming so much more!"
When I asked Angie her feelings about our club, especially given that she is a new member, she responded with some wise words: "We are all so different, but yet we come together because of our love of multi-sport.  It's like all is right in the world when I am at races or club meetings or big events.  On a personal level, I would have never imagined the friendships that would come along with joining our club.  Triathletes are as much fun training as they are on a Friday night!"  As Angie gets ready to run her first half-marathon next year (Frostbite series), re-attack Lake St Louis and/ or Litchfield and train for her first 70.3, I hope everyone gets the chance to train and socialize with this remarkable athlete!