"When you love someone, you'll do anything,
You'll do all the crazy things that you can't explain,
You'll shoot the moon, put out the sun,
When you love someone.
When you love someone, you'll sacrifice,
Giving everything you got and you won't think twice,
You'd risk it all, no matter what may come,
When you love someone." — Bryan Adams
For they are a couple that face the storm ahead with a sword and a shield, layered sparks of humor and sarcasm. For they are a bond that is beyond measure — because true love has no units, has no boundaries, has no end. For they lift each other up during a race, with a smile, a wink and a "get that, girl!" attitude. Here is their journey as a couple, as team mates, as soul mates.
Kim was born in Washington, Iowa but raised in St. Louis, while Meredith was born and raised in St. Louis. Kim is a medic and works in the Washington University Orthopedic Trauma Surgery Clinic, and Meredith works for iHeartMedia St. Louis as a Senior Account Manager selling media for 7 local radio stations. Both triathletes grew up playing sports: Kim competed in soccer, softball, volleyball and basketball and Meredith played soccer and swam competitively. And you may be thinking that their foundation of sports and competition drove them as adults to live and breath triathlons, but you will be inspired by what keeps them motivated with relentless optimism and soul.
While Kids Triathlons were rare to come by, Meredith participated in one at the age of 10 and picked it up again in 2011 at the Ballwin sprint race. In triathlons, many say how the swim section is the hardest, and I bet if you asked Meredith which discipline she loves the most, she would say the swim. In watching Meredith swim, she is like a fish in the ocean, seamless in the water, with no fear, and with a smile before, during and after the swim.
(click on the photos to enlarge)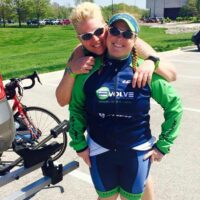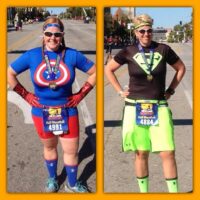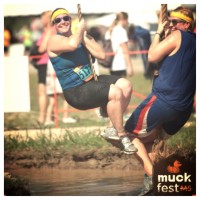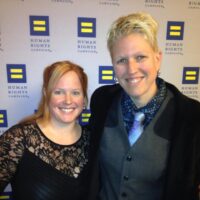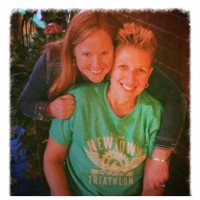 Kim, always sporty, always competitive, got into triathlons as a method to challenge her body and mind. In 2009, Kim was diagnosed with Multiple Sclerosis (MS), and after a year of "feeling sorry for herself" as she says, she and Meredith started a couch to 5K program and never turned back. They started riding and did their first Bike MS together. But this path wasn't without struggles; in 2011 Kim had an MS flare up that could have taken her back, but she decided then and there to sign up for the St. Peter's Rec Plex spring triathlon. "It was amazing, and I haven't looked back. It is challenging and the furthest thing from MS that I can think of doing" says Kim. Rock on sista, more power to you! Kim continued to race the Ballwin sprint next. It was her second tri and the first one that she and Meredith did together.
Do they have a favorite race you ask? Meredith in her own words — "It's no secret that I am not a runner. In fact, all of the race photos of me running look more like I'm jogging in place. The best and worst part about this sport is that it's actually THREE sports. Since I'm so new to this crazy sport, I don't have a favorite distance. They are all awesomely awful!". And Kim — "My favorite run is the Go! Halloween run. We have done the 5k, 10k, and half marathon. We always do "couples" costumes. Last year we were the spartan cheerleaders from Saturday Night Live. My favorite tri is the Challenged Athletes Foundation (CAF) San Diego Challenge. It is a benefit for CAF  and this race is a 1 mile ocean swim, 40 mile bike ride, and 10 mile run, every October in La Jolla California.  It is by far the most inspirational day I have ever been a part of and it is definitely challenging. I really wish that everybody has a change to participate in this Tri once in their lifetime. I don't have a favorite distance. I am looking to forward to a half Iron and hopefully a full one day."
Kim and Meredith display outstanding sportsmanship when they see a new person join the sport — they welcome them with open arms. Even though they themselves are far from being a rookie, their humility and kindness makes one feel so comfortable. You can literally ask them anything and they will give you a straight answer. Well Kim will give you a straight answer, Meredith will try to give you a straight answer, but there is a always a joke around the corner. They have some great advice for beginners: Kim — "Remember to always have fun. Don't wear or try anything new on race day (I learned that the hard way). Check your bike ( I once rode a very hilly 12 miles with the front brake on – it was awful)". Meredith — "Try not to compare yourself or your skill set to anyone else. We are all so very different in our backgrounds and our triathlon journey. The key is to stick with it and be the best YOU that you can be. Oh, and never EVER forget "Chamois Butt'r" on a long ride. If you do it once, you'll never forget again".
It is one thing to start a race, but to finish it strong involves inner strength, outer courage and an all rounded training plan to keep you injury-free and motivated. I asked Kim and Meredith to share their experience with the coaching system Evolve: Kim — "We joined team Evolve with Sam Murphy August 2014. I wouldn't have made it through the CAF Tri without her coaching.  She keeps me focused and motivated." Meredith — "The very best decision I've made as an athlete was to join Sam Murphy and Team Evolve. I have made tremendous strides (pun totally intended) in the last 10 months of being coached. This team is not just about training plans and nutrition, it's about mental and physical growth. Sam has taken the time to know me first as a person and second as an athlete. Kim and I have been partners in crime for 13 years and get the opportunity to be on this crazy triathlon journey together. We are surrounded by our Team Evolvers and members of the St. Louis Tri Club. It's great to be out for a training ride or run and hear, "Go Tri Club," We are very fortunate to have such an incredible community. Triathlon may be an individual sport, but you could not do it without a team!".
Meredith will put her year long training to the test at the upcoming 2015 Ironman 70.3 in Racine, WI. Kim has the 2016 Ironman 70.3 in New Orleans on the map. Keep that flame burning strong Meredith and Kim! We couldn't be more proud to know you, and to explode in cheer when we see y'all at a race.
I asked these love birds to share with us how they met and what they love most about the other. Meredith says "I had a crush on Kim when I was 16 and she managed the local record store. Ten years later, imagine my surprise to run into her in a neighborhood bar. I figured I had nothing to lose, so I walked up to her and said — I've had a crush on you since I was 16. I will be sitting at the table over there if you'd care to join me. Well, she never left. Thirteen years of bliss later! I love Kim's compassion and resilience. She's genuine and that's hard to come by these days. After 13 years, she's still happy to see me at the end of the day". Kim says "I love Meredith's sense of humor. She is the funniest person I know. She would do anything for anyone and I love that about her. She really cares about her friends. She is the best person I know".
"And we can build this dream together,
Standing strong forever,
Nothing's gonna stop us now.
And if this world runs out of lovers,
We'll still have each other,
Nothing's gonna stop us, nothing's gonna stop us now." — Starship