New Town Triathlon
The addition of a new race distance to the adult's race was just one of a few changes this year at Big Shark's New Town Triathlon. The standard race distance (.6 mile swim, 20 mile bike, 4 mile run) became the long course race and a new sprint race distance (.3 mile swim, 15 mile bike, 2 mile run) made it's debut in 2014.
Also new this year was the swim start and swim exit location. The swim exit of previous years became the new swim start position which meant a counter-clockwise swim course for the athletes. The corn was high and the winds were relatively calm out on the bike course. The sun came out and the temps started to rise by the time most reached the run course.
Over 100 kids kicked off the weekend in their own triathlon on Saturday, the 12th, before the adults had their fun the very next day. Tri-clubbers were out in force on Saturday volunteering at the kids tri and again on Sunday both volunteering and racing.
Kevin Denny and Sunny Gilbert took the Elite Male and Female races. Andrew Schrank and Nikki Difani were the overall AG long course winners and Shawn O'Neal and (club member)Margie Martens were the inaugural sprint winners. Other notable results and club member podiums include:
Kate Vermann (3rd Elite Female)
Devin Tyman (1st M25-29)
Elliott Ballentine (2nd M30-34)
Asako Kuboki (2nd F40-44)
Jill Laswell (3rd F40-44)
Karen Proper (1st F45-49)
Greg Frankenfeld (2nd M45-49)
Betsy Phillips (3rd F55-59)
Dale Cira (2nd M55-59)
Kyle Fetick (2nd M25-29)sprint
Edgar Amezcua (1st M35-39)sprint
Andrew Kirk (2nd M35-39)sprint
Jara Simon (1st F70+)sprint
Congrats to all the finishers!
Click an image for slideshow:

Ballwin Triathlon
Also held on July 13th, the Ballwin Triathlon features a 300 yd pool swim, 9 mile bike, 3.4 mile run that starts and end at the North Pointe Aquatic Center. Over 200 triathletes raced this year with Brian Schoenholz and Jen Hankins taking the overall titles. Club member, Michael Duchek, had a successful first triathlon and a strong 3rd place AG finish in the 45-49 age group.
Stoneman/IronAbe/Route 66 Half-iron
After the debut of Route 66 half-iron last year, Tri Harder Promotions brought it back for a second year. Saturday, July 26th was one of the warmest days of the summer which made the day challenging especially for the half-iron racers. The other two already established races, the olympic distance IronAbe and sprint distance Stoneman triathlons, were also contested on the same day in Springfield, Illinois.
Swim conditions in Lake Springfield were challenging as the strong winds made for a lot of chop on the expansive lake. The winds persisted on the bike and one of the warmest days of the summer made the day all the more challenging especially for the Route 66 half racers.
Congratulations to Eric Wise and Lisa Becharas, the Stoneman overall winners. Andrew Person and Lara Mele, the overall IronAbe winners. Rick Lapinski and Brigitte Stotter took home the overall Route 66 titles.
Special recognition to Carrie Tillott, John Tillott, Deena Siler, and Matt Dirnbeck who all completed their first half-iron. Strong podium finishes were also turned in by these club members:
Meghan Neunaber – 2nd overall female – Stoneman
Susie Mohan – 2nd F Athena – Stoneman
Brian Jennison – 2nd M Clyde – IronAbe
JP Julie Palmer-Schuyler – 1st F45-49 – Route 66
Alan Brown – 1st M55-59 – Route 66
Stoneman/IronAbe/Route 66 Results »

Tour de Kirkwood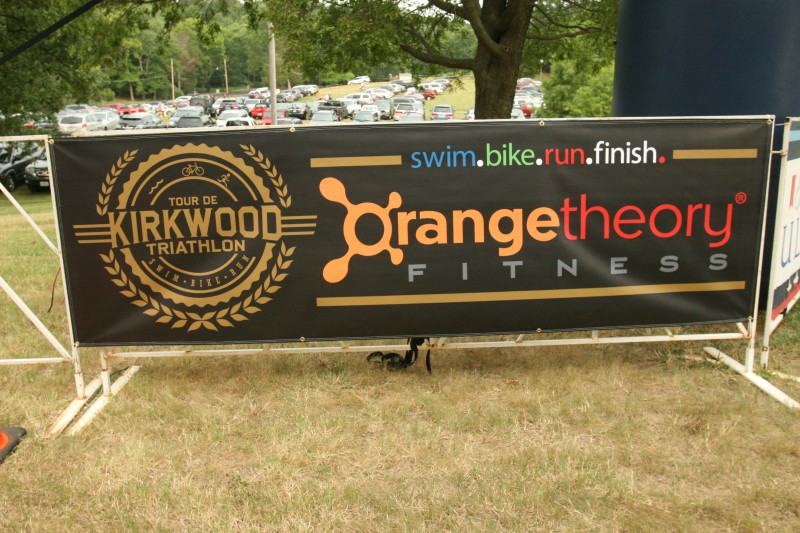 The 13th annual Tour de Kirkwood was held in Kirkwood park on Sunday, July 27th. This uniquely noncompetitive (no overall or age group awards) triathlon consists of a 400yd serpentine pool swim, 10 mile bike and 3 mile run.
Tri club members were well represented by those racing and also as race volunteers throughout the course as body markers, course marshals, and water station staff. Just over 300 individual racers and 11 relay teams participated.
Click an image for slideshow: