Do you consider St. Louis your hometown?
Yes
What do you do for a living?
I am an IT Computer Operations Service Lead (fancy title for IT Help Desk Lead)
Tell us about your family?
I have been married for 17 years to my husband Carlos. We have a 13 year old daughter Sofia, a 9 year old son Braulio and an 8 year old daughter Lola. Since my youngest two are the same height and approximate age, people think their twins all the time. They've been working together to get in and out of trouble since they were toddlers. We have a little miracle dog Max that was stolen from us when he was just 9 weeks old by an aspiring rapper ( I know because he made a video with my stolen dog and posted in on Facebook Live and made it Public). We got him back after 4 weeks for the reward money. Maybe he needed to make more crappy rap videos.
My kids love to attend my races and make signs and are very proud. They think I am the strongest woman alive and tell me so almost daily. Now that they are a bit older, we have started running together and will run the Hot Chocolate Race together. It is a huge deal to them to run with me. Also it's a huge deal to do this race because from birth until just 2 years ago, each of them were diagnosed with a severe dairy allergy. They had milk for the first time 2 years ago and real hot chocolate the day I picked up my packet for the race. They want to attend every race but they don't because they are usually too far or too early, but they attended my first Half Ironman in Monterrey Mexico and were so excited.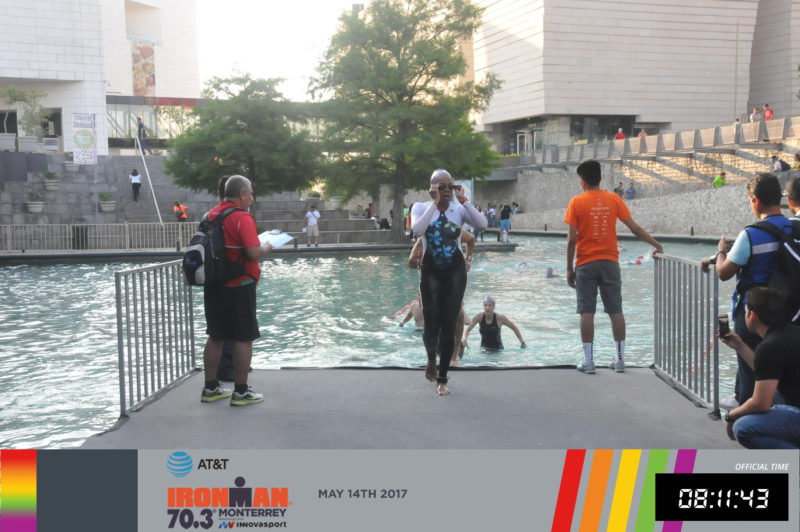 Any hobbies outside of triathlon?
I own and operate an urban farm. I have almost 1 acre near the Central West End that used to be a vacant city-owned lot. It looks awful right now. I haven't done anything with it for the past 18 months which I really feel bad about. But normally, I raise chickens and have two hives of bee. There are about 12 fruit trees, a large greenhouse and over 55 raised beds where I produce heirloom and exotic vegetables using organic methods. I usually sell my produce at the farmers market and to restaurants and stores. I miss it but it takes a good 20 hours a week to work.
What led you to triathlon?
Jessica Perkins said ."..if I can do it and I'm almost 60, you can do it". I had at that point in my life been trying to take on new challenges so that was the perfect "challenge accepted" moment for me.
Your first triathlon
My first real outdoor triathlon was TryTri and it went really badly for me. I did slightly okay on the swim. Then, I got out on my bike after spending a strangely long time in transition (doing nothing!) and I did well and even passed two people. However, right near the end, I was directed to make a turn and went off course by 4 miles. By the time I made it back to transition, almost everyone was finishing the run. I cried a bit in transition and called my husband and he couldn't believe that i was ready to give up. He said that doesn't sound like you at all. And he was totally right, so I finished. I was the last one to cross the finish line, but I crossed it.
Any experience in endurance sports prior to triathlon?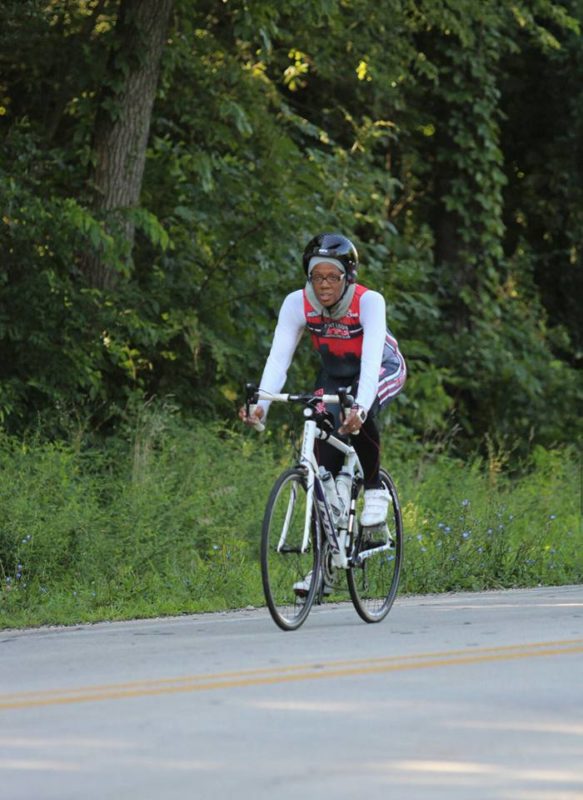 I ran half marathons before triathlon. I started running in 2014. I was not fast but I was so amazed that I went from not being able to run around the block to running 13.1 and enjoying it. I would have laughed at the notion of being an "athlete" back then.
What workout do you look forward to doing the most?
I look forward to spending time on my bike. I'm like a dog with his head out the car window. I get so happy to be on my bike that I can't stop smiling and end up with bugs in my mouth. So gross.
What workout do you dread doing the most?
I dread hill work on the bike or on foot. Why can't everything just be flat?
What skill or ability of your least favorite discipline do you most want to learn to do well?
I want to work on climbing and descending on the bike. I spend all of my time riding my brakes as I go downhill pressing my nails into my hand. I'm going to a camp in Arizona this spring focused on this skill.
Who is your coach?
Sally Drake
How has coaching changed or helped the way you train or race?
She has not been my coach for very long but I can be very serious when I train. I take everything so hard. Like why can't I just wake up today and run a 5 min/mile when I ran 12 min/mile last week? I look for small wins and track more how I feel. Just being around her the few times I have and the communication with her makes me feel like I shouldn't be so hard on myself and to remember that this should be fun.
Activity you most look forward to doing in the offseason or to have a break from swim/bike/run?
Crossfit, weightlifting and naps
What are your short term goals? What about long term?
Short term I want to be faster than I was yesterday and go farther than I did yesterday. Long term, I'd like to get some time on the podium.
Why did you decide to join the St. Louis Tri Club?
I wanted to learn more about triathlon and be with people didn't make me feel like I was a weirdo for enjoying endurance activities.
What is your favorite part of being a member of St. Louis Tri Club?
Everyone is really nice and supportive like a family.
Best piece of advice you heard or were given?
Recovery is important. It really is!
Favorite place to train in or around St. Louis?
The YMCA! Since I don't drink, it's the closest thing I'll get to Cheers, everyone knows me there.
At the Races
Favorite Race?
Ironman Monterrey
Favorite Local Race?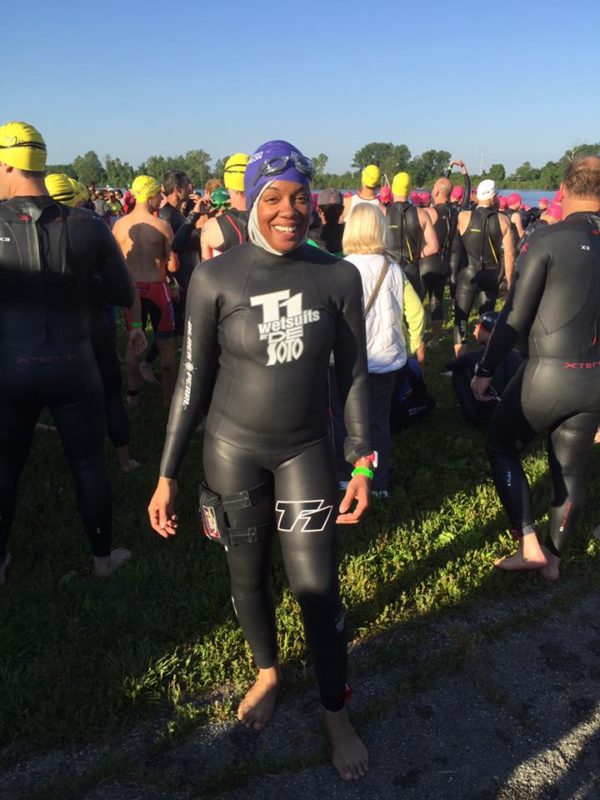 St. Louis Triathlon
Most memorable, unique, or cherished race swag?
I still use my St. Louis Triathlon socks (some of the only pair I own since I hate socks in general). Those socks are so special to me.
Dream Race?
Ironman Rio de Janeiro 70.3
Your normal go-to meal the night before a race?
Salad with a lot of beef or salmon
Do you have any pre race rituals?
Apparently it's walking in circles and acting confused. I have decided I cannot trust myself pre-race so I started writing down everything I need to do and the time and order I need to do them in. Otherwise I'll walk around wringing my hands trying to figure out what to do next and ultimately rushing out the door.
What is your single greatest challenge on race day?
Nerves on the swim. I get very nervous swimming. My heart races so badly. Sometime, I have to close my eyes when I swim just so that I can calm down or breast stroke.
Proudest accomplishment or race result?
Placing 2nd in my AG in 2016 at the Newtown Triathlon. I literally wore my medal the rest of the day and then the next day to work.
Most embarrassing or disastrous moment during a race?
Going off course at TryTri in 2016 and crying in transition.
Furthest you've traveled for a race?
So far Monterrey, Nueve Leon Mexico but I'm training for Cartagena, Colombia now.
Your Gear
Running Shoes
Saucony Men's Running Shoe because my feet are enormous
Bike
Fuji Finest
Swim Goggles
Prescription, Smoked lens TYR
Piece of tri gear you can't live without?
My Garmin Forerunner 920 XT, it's part of me now
Race Day Nutrition
I use Carbo pro and blocks or honey stinger energy chews. I have to force down everything.
Does your bike have a name?
Khawlah. A 7th century female warrior who's brother was captured in war so she posed as a man and volunteered to go and fight in an effort to free him. She did and he was freed. She was captured after falling from her horse and quickly found to be a woman. She was sent to be a sex slave which she not only refused but convinced the other women that they were better off dying fighting then as slaves. They fought and killed 30 of the guards with weapons they fashioned from tent poles and escaped. She was known as a great warrior. She never backed down from impossible challenges.

Your Favorites
Favorite Local Park?
Forest Park
Favorite Local Restaurant?
The Palm Trees Restaurant
Favorite Book (or Last one you read)?
En el tiempo de las mariposas (by Julia Alvarez)
Favorite Musician/Song?
Louis Armstrong
Favorite Movie (or last one you watched)?
Wonder Woman
Favorite place you've visited?
Chichen Itza in Mexico
Favorite TV show (or one you last binge watched)?
How to Get Away with Murder
Favorite ice cream flavor?
Cherry Cordial or Cherry Garcia
Favorite comfort food?
My grandmother's macaroni and cheese