For this latest installment of our member spotlights, meet Emily. Find out how completing an ambitious goal led to her signing up and finishing her first half-iron in 2016. What's next for her? Read on to find out:
Do you consider St. Louis your hometown?
No
What do you consider your hometown?
Fulton, MO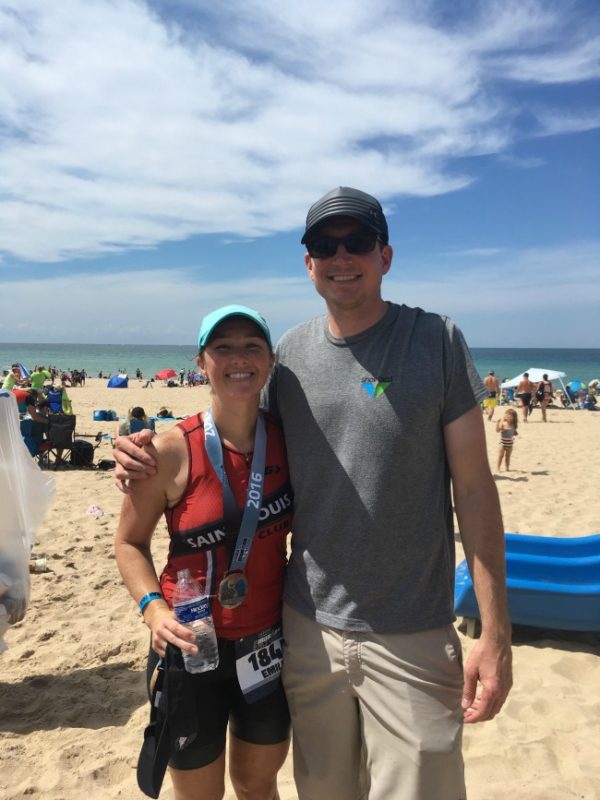 What do you do for a living when you aren't daydreaming about being a professional triathlete?
Civil Engineer
Tell us about your family?
My boyfriend, Jared, is the best Sherpa at my races and also tags along for several of my training runs and ride
s. My crazy dog, Enzo, goes on most of my training runs with me and never seems to get tired.
Any hobbies outside of triathlon?
I enjoy playing softball, reading and spending time with my family.
What led you to triathlon?
I grew up swimming and my sister got me started doing half marathons and biking when I was in college. I was interested in the challenge of triathlon and like the aspect of doing several sports rather than just running.
Your first triathlon?
I completed my first sprint triathlon in Dallas in 2007. I was on a mountain bike and felt super slow. Can't wait for my first sprint on my new tri bike this April!
Any experience in endurance sports prior to triathlon?
Yes. I grew up swimming, but was basically just a runner and biked on occasion, before I became a triathlete. I always like to have something to train for so I would sign up for multiple half marathons a year. I decided to do 30 half marathons by my 30th birthday and after that I needed a new goal…so why not a half ironman? That led me to the Steelhead 70.3 in 2016.
Which of the following (swim, bike, or run) do you consider your favorite or your strength?
Swim
Which of the following (swim, bike, or run) is the most challenging or your least favorite?
Bike
Do you currently use a coach?
No
Activity you most look forward to doing in the offseason or to have a break from swim/bike/run?
softball and hiking
What are your short term goals? What about long term?
This year I'm training for the Chattanooga 70.3. I'm also planning to do the New Town Triathlon this summer. Eventually I would like to do a full ironman. I'm not very patient though so it might be sooner rather than later.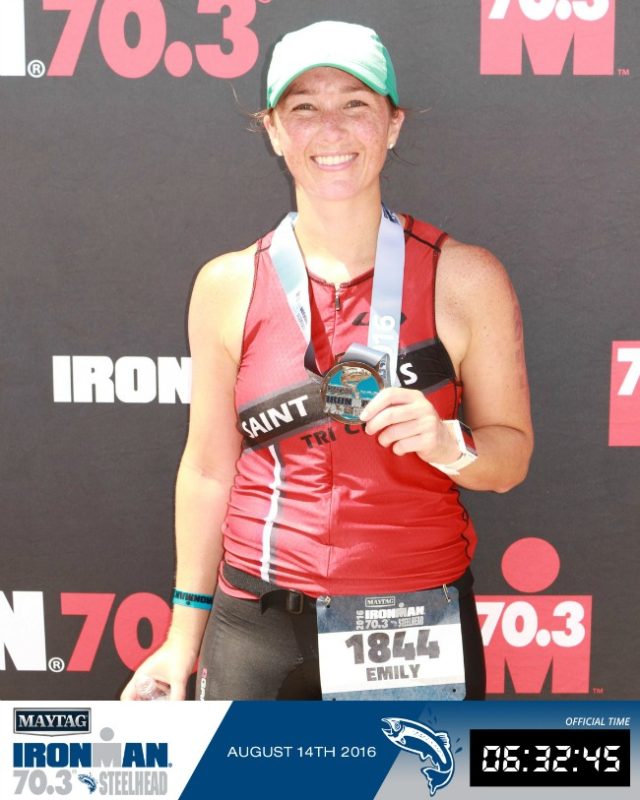 Why did you decide to join the St. Louis Tri Club?
I decided to join the Tri Club once I signed up for the Steelhead 70.3 in 2016. I knew I would need lots of advice and encouragement and the Tri Club did not disappoint! I really enjoyed the Mentoring Sessions and all the knowledge gained from the club members. Everyone is so passionate and willing to share information and give advice.
Best piece of advice you heard or were given?
Best piece of advice I've been given is to visualize the race beforehand, going through each of the legs and transitions. This helps me focus and feel prepared.
Favorite place to train in or around St. Louis?
I love running in South City
At the Races
Favorite Race?
Maui Half Marathon. It was my 30th half and right before my 30th birthday. Beautiful run with mountains on one side and the ocean on the other.
Favorite Local Race?
Go! Half Marathon
Your normal go-to meal the night before a race?
Salmon with a side of vegetables
Proudest accomplishment or race result?
I was very proud of finishing Steelhead 70.3. It's the longest race I've done and the most training I've done for a race. I met my goal which was to finish while still smiling.
Furthest you've traveled for a race?
Furthest for a triathlon was Benton Harbor, Michigan
Your Gear
Running Shoes
Brooks
Bike
Cannondale
Swim Goggles
AquaSphere
Piece of tri gear you can't live without?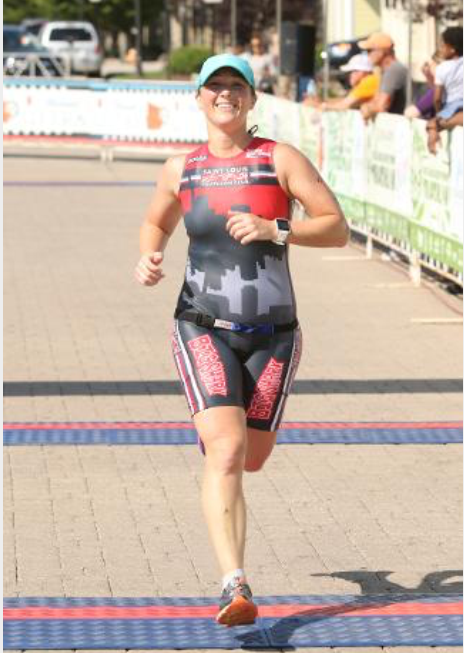 Garmin Vivoactive
Race Day Nutrition
Typically bring my own nutrition consisting of Stinger waffles, Clif shot blocks, and Infinit.
Does your bike have a name?
No
Your Favorites
Favorite Local Park?
Francis Park in South City
Favorite Local Restaurant?
Onesto's
Favorite Book (or Last one you read)?
Outliers: The Story of Success
Favorite Musician/Song?
Citizen Cope
Favorite Movie (or last one you watched)?
Shawshank Redemption
Favorite place you've visited?
Maui
Favorite TV show (or one you last binge watched)?
The Today Show (even though I only catch 10 mintues of it each morning)
Favorite ice cream flavor?
Cookies N Cream
Favorite comfort food?
Ice Cream