Date/Time
Date(s) - 03/31/2018
8:00 am - 10:00 am
Location
Creve Coeur Lakehouse
Categories
What is Mallard Madness?
This footrace event takes place at scenic Mallard Lake, located directly behind the Creve Coeur Lakehouse Restaurant at beautiful Creve Coeur Park. You along with 3 other local clubs have the opportunity to come out and run either our Sprint (2.6 mi), Half (5.2 mi) or Full (10.4 mi) distance race. The Mallard course is a 2.6 mile loop ran clockwise around Mallard Lake itself, starting and finishing at the Lakehouse Restaurant. It is approximately 1.5 miles of concrete path and 1.1 miles of crushed rock (similar to Katy Trail) per loop.
You can expect a marked course, full chip timing and a professional race setup / environment including a finisher's podium and award session. Aid will be located at the Lakehouse with Gatorade and water, and will be accessible to you every 2.6 miles. There will be 4 bathrooms on-site race morning. We will also have MSE's transition racks on-site if you would like to bring your bike and stage for a ride after the race and don't worry, we will keep an eye on your bike while you run.
I'm interested, what's the cost to race?
Absolutely nothing. If you are a 2018 registered member of Swim Bike Run Triathlon Club, St. Louis Triathlon Club, On-Pace Triathlon Training Club or 40k Racing, you qualify for entry. This event is EXCLUSIVE to you, it's FREE for you to enjoy and on behalf of all clubs involved along with Swim Bike Run St. Louis and MSE Racing, we thank YOU for being a part of our St. Louis multi-sport community!
Explain that distance to me again?
Sprint: 2.6 miles, 1 loop
Half: 5.2 miles, 2 loops
Full: 10.4 miles, 4 loops
**all race distances have a course cutoff of 10:00am
How do I register?
Send an email with your FULL NAME, AGE, SEX, CLUB (OR CLUBS) AND RACE DISTANCE (SPRINT, HALF OR FULL) to SBRchallengegroup@gmail.com. All registry emails will be replied to within 48 hours confirming your entry. You will be required to sign a standard race waiver when you pick up your bib.
Awards?
We will have green, silenced Mallard Madness dog tags for podium finishers! Podium spots will be top 3 Male and Female finishers by race distance under the following age groups: under 20, 20-29, 30-39, 40-49, 50-59, 60+.
Race specific questions?
Please reach out to your club board or email RD Joshua Smith directly: SBRchallengegroup@gmail.com
Timeline of Events and General Information:
Friday, March 30th
Packet Pickup 2:00 PM to 7:00 PM
Swim Bike Run of St. Louis
14830 Clayton Road
Chesterfield, MO 63017
Saturday, March 31st
Creve Coeur Lakehouse
2160 Creve Coeur Mill Road South
St. Louis, MO 63146
Parking: On-Site at the Lakehouse
Additional Parking: Lou Fusz Soccer Fields directly across the street
6:00 AM – 7:45 AM Packet Pickup
7:50 AM Race Announcements, Line up (seed by your pace, ask a neighbor)
8:00 AM Race Start (all distances start at the same time)
9:45 AM Awards
10:00 AM Course Cutoff (Full avg. 11:32/mi, Half avg. 23:05/mi, Sprint avg. 46:09/mi)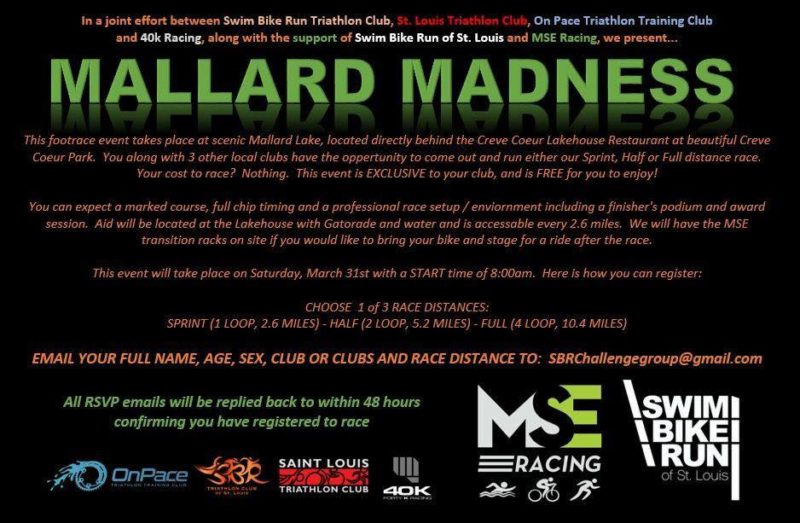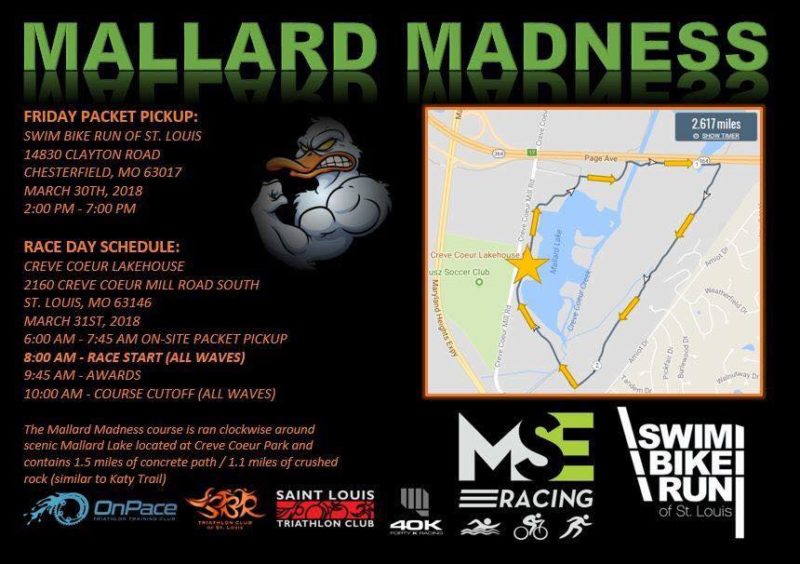 Bookings
Bookings are for St. Louis Tri Club members only, please login to RSVP.
MEMBERS: You must be
logged in
to see member content. Please register or login to view this content.