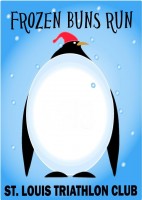 Click on the penguin to register
Saturday, January 17th, 2015 @ 10:00 am
@ Blueberry Hill in The Loop
Pricing:    Thru 11/16         Nov 17 – Dec 31             After 12/31 and Race Day
5K                     $25                           $30                                           $35
10K                    $30                          $35                                           $40
The Frozen Buns Run is a 5k and 10k race, starting in front of Blueberry Hill, organized by the St. Louis Triathlon Club which also offers an awesome finish line tent, and fantastic support from The Loop businesses.

A little history…
2007:  The inaugural year of the Frozen Buns Run.  The Saint Louis Triathlon Club was approached by University City and asked to coordinate a 5K race to coincide with the City's new Ice Carnival. Attendance was about 40-50 runners and timing was done with a stopwatch.
2008: The STL Tri Club teamed up with Big River Running for race timing and results. Attendance was also about 50 runners.
2009: The first year of having dedicated race directors and the race became better organized and promoted, successfully attracting 200 runners on race day!
2010:  A 10K route was added modeled after the UC Library Memorial Day run. The race was capped at 400 runners (evenly split) and capacity was reached by race morning.
2011: 375 runners and  BRR moved to chip timing.
2012, 2013, 2014: Over 500 people register for the race each year. The finish line party and awards ceremony were improved to include plentiful snacks and refreshments as well as finisher awards and giveaways.
As before, we'll offer both 5K and 10K races.
Race Details
Date: Saturday, January 17, 2015
Time: 10:00 AM
Location: Delmar Loop
Packet Pick Up/Race Day Registration: 8:00 AM – 9:30 AM at Blueberry Hill in The Loop
Pre-Race Day Packet Pick Up: January 15th and 16th – Time and location TBD but will be in The Loop.
Past Results:
Race Route Maps
Both start on Delmar in front of Blueberry Hill in University City and end on Kingsland near the University City Library.
Street parking is also available throughout The Loop area. Check for any parking restrictions/meters on each street. Parking will not be allowed on the southbound side of Kingsland Ave.